FRONTIERS BEYOND BLOG
If you don't like visiting the Himalayan Kingdom which is absolutely zero waste, then don't visit Bhutan. If you don't like the idea of a Himalayan Kingdom that totally prioritizes cleanliness, then don't visit Bhutan. If you completely hate the idea of your travel money going to alleviate healthcare-related problems and funding children's education, then don't visit Bhutan. And if surreal hikes to hidden monasteries in the lap of nature and checking out unparallel beauty do not excite you enough, then don't visit Bhutan. But if this small Asian country that epitomizes everything healthy and beautiful attracts you-then welcome to the land of the thunder dragon!!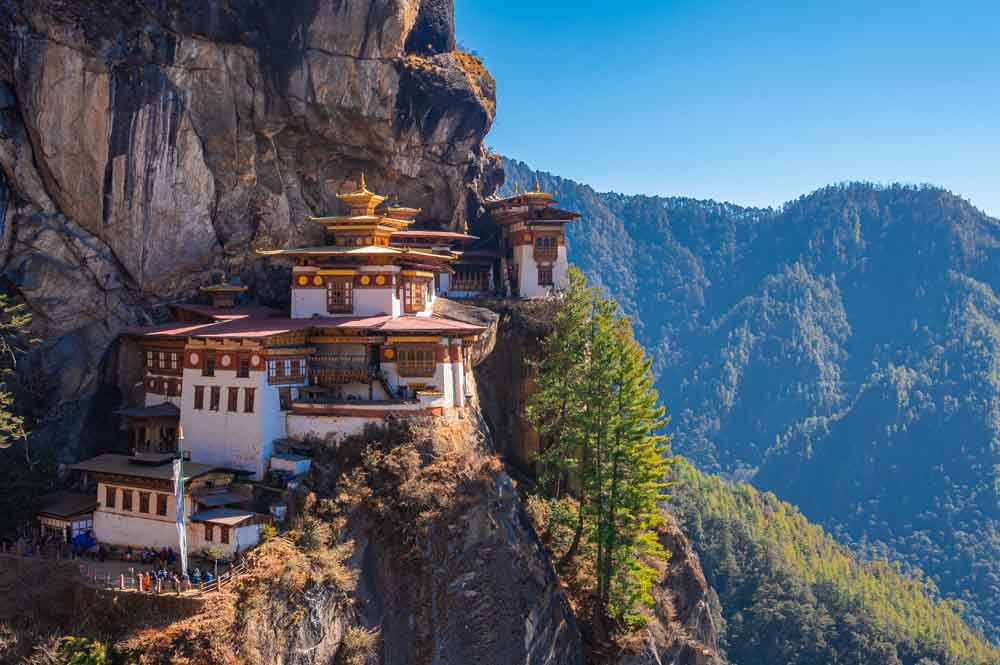 So, the "happiest place of the earth" as the tag goes is still ruled by a king, which can be really fascinating to know and the people of Bhutan hold their monarch in the highest place in their hearts. Bhutanese people are warm and they adore tourists but as of now there are permits and per-day amounts declared by the government to ensure that they are attracting responsible tourists. Depending on your nationality the prices can vary and selecting tour groups can be advantageous.  You need to put in some amount of research to know how you can strike the economy, but if that is not your cup of tea then Frontiers Beyond can help you plan the perfect getaway for your Bhutan trip.
The capital city Thimpu can be reached through India's West Bengal state via Phuensholing and a 6-hours scenic ride will make you reach Thimpu. Otherwise, Thimpu is well connected via road with Paro, which houses the international airport of Bhutan. It allows many opportunities for travelers to delve deep into its rich past and learn about the socio-cultural experiences and artifacts available in the country. Dotted with typical Bhutanese royal buildings here and there, you can see lush green meadows where people practice archery or run in the central square to chase the pigeons.
The city has some amazing cuisines to offer. Local Bhutanese food is a must try which has rice variety (buckwheat rice, red rice). You should try their cheese-laden food called the Datshi. Try out Ema Datshi, Shakam Datshi is heavenly for non-veg lovers who relish beef meat. But in case you think it is an overdose for your palette then you can even try Indian dishes at Chula restaurant, at Seasons restaurant you can tickle your taste buds with Italian food while if you are a party animal Thimpu will pleasantly surprise you at Mojo Park. For more variety, you can rely on our team of Frontiers Beyond.
Bhutanese craft Bazaar is your best bet if you wish to shop authentic local items from this happy country. The National Folk Heritage Museum lets you explore the Bhutanese way of living while Phajoding Monastery allows a spiritual immersion for travelers. We highly recommend visiting the fortress situated on the northern edge of the city called Tashichoo Dzong. It has amazing architecture and is beautifully nestled in the mountain valley.
Another important city often thronged by visitors is Paro. The green valley gives enough pabulum to the minds of thirsty travelers. The international airport itself is a sight worth beholding and you will be amazed to know that it is one of the most dangerous runways around the world and only some counted numbers of pilots are licensed to fly in the region. The lush green valley provides ample sightseeing opportunities and trekking and hiking locations.
The Tiger Nest or the Taktsang Monastery is one of the most photographed hiking spots visited by Paro. The monastery has a very distinct structure and looks like it was carved naturally and hanging from the laps of the rocky sides of the mountains. Just 10 km away from the city of Paro, it is just the place for any beginner to set themselves up for a 3 to 4 hours hike which can be easily done.  It was believed that Guru Rinpoche rode on the back of a tigress (believed to be his wife) to subdue the demons residing in it and mediated for 3 years, 3 months, 3 days, and 3 hours in the 7th century AD.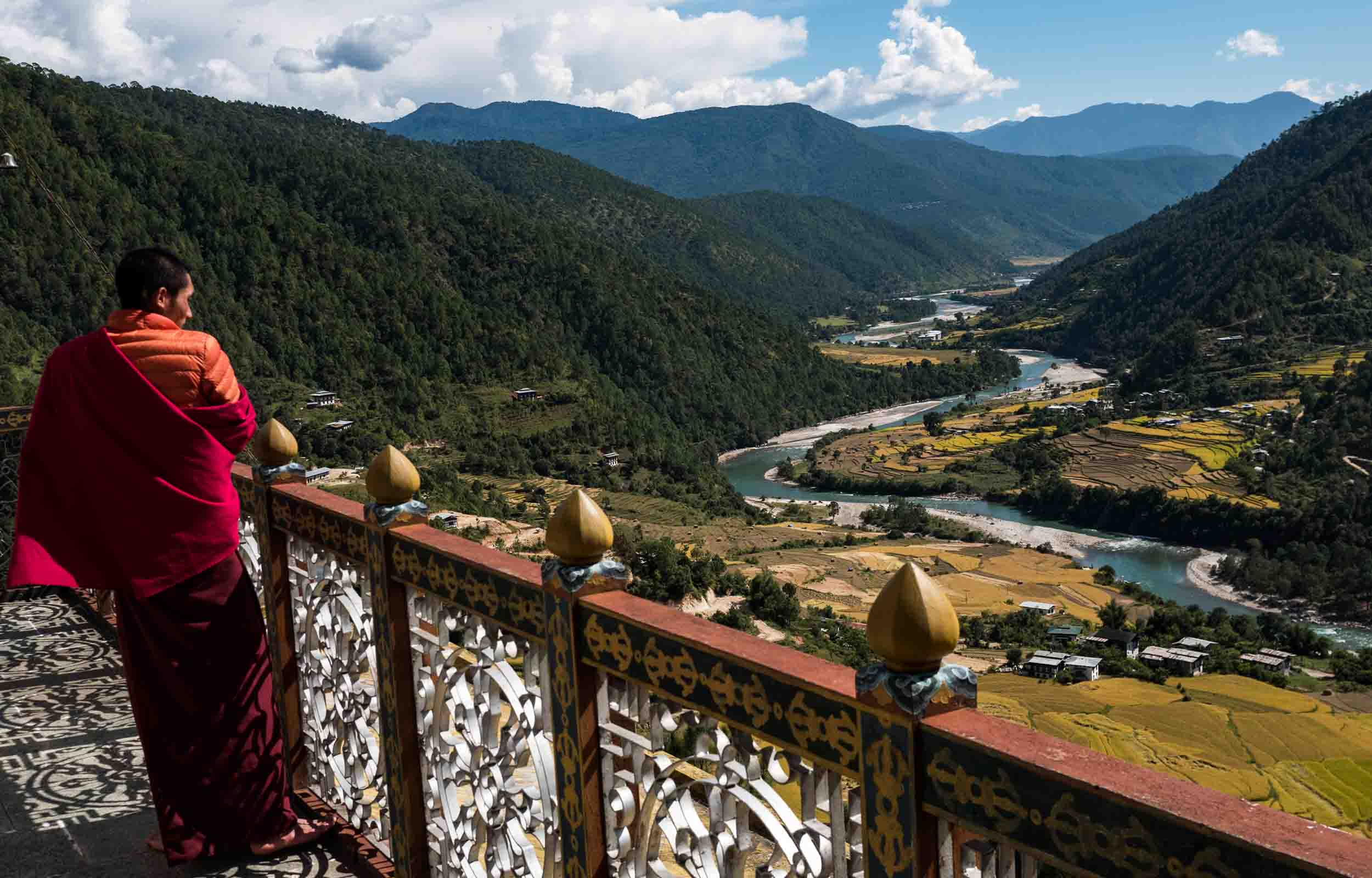 2 hours away from Paro, Chele La Pass is the highest motorable pass in Bhutan which should not be missed. It connects Paro to the lesser-known lands Haa Valley. Also, you can plan to visit Rinpung Dzong and Drukgyel Dzong which bears the testimony of Bhutan's victory over Tibet.
Heading towards the rice bowl of Bhutan- Punakha valley can give a run for money to many other Himalayan destinations in both Bhutan and elsewhere. Situated on the beautiful banks of the gurgling rivers Pho and Mo Chhu, it has a long suspension bridge which is an absolute must-see for your Instagram feeds. Till 1955, Punakha served as the capital of Bhutan till Thimpu replaced it. It also houses the most sacred relic of Bhutan which is  Rang Jung Kharsapani. Punakha Dzong has a very famous legend that gives goosebumps to its listeners. The well-known sage Padmasambhava had prophesied that there will be a person named Namgyal who will visit a hill that resembles an elephant. And very astonishingly Ngawang Namgyal, the 1st Zhabdrung Rinpoche arrived at the peak of the hill which look like the trunk of an elephant, and built the dzong in 1637-38.
Punakha is also favored by both locals and other neighboring country traveler couple who wishes to conceive for the Chimi Lhakang or the fertility temple which is a Buddhist Monastery which is built by Ngawang Choegyel who happened to be the 14th Drukpa hierarch. Punakha Tshechu is a festival worth visiting where the thongdrol is unfurled which is a large tapestry of Guru Rinpoche.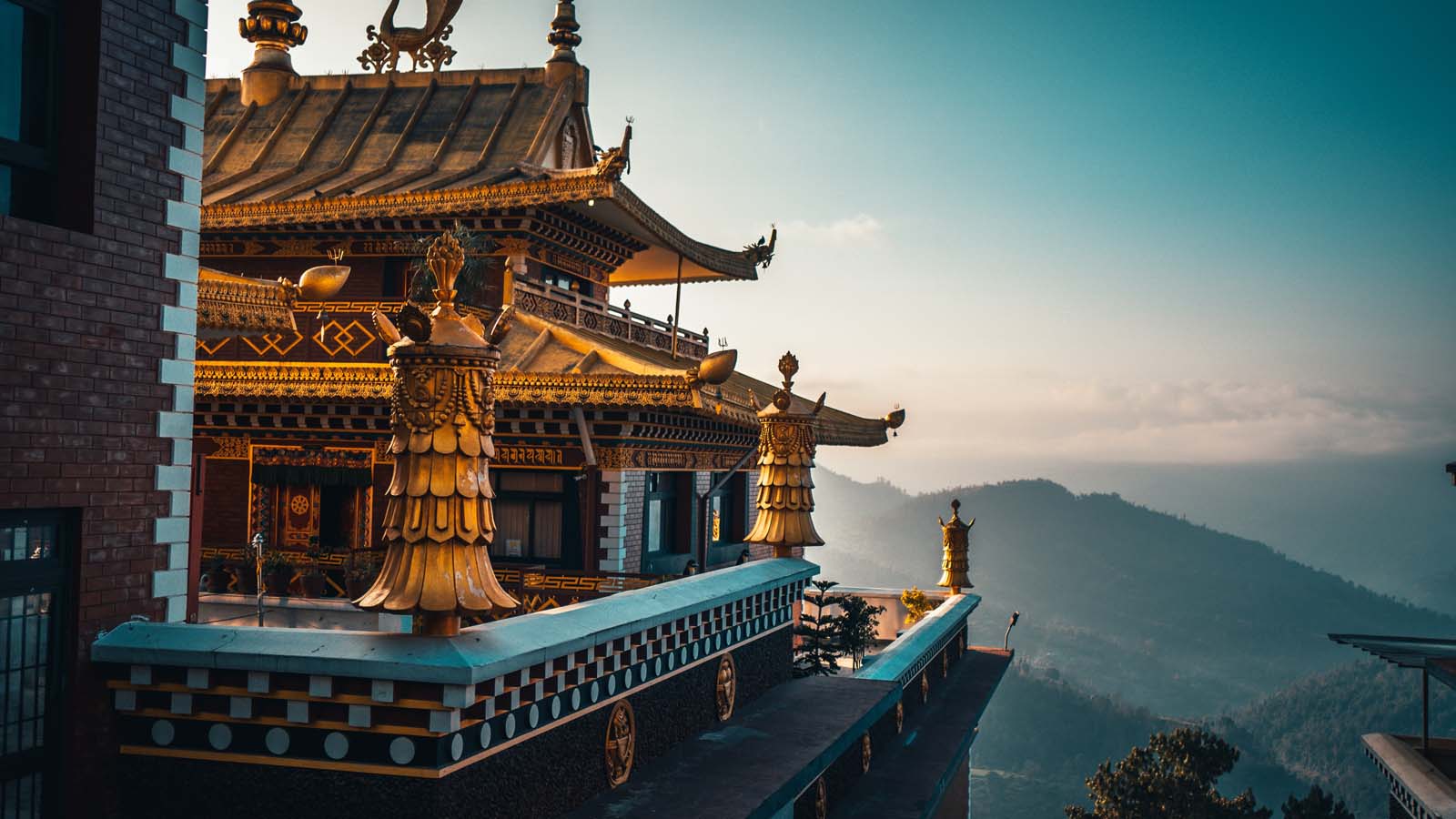 Many unexplored and serene places await you in Bhutan and the summers cannot be allowed to go away without you boarding the Druk Airways and traveling with us to this scenic and mystic land of Bhutan.
INSTAGRAM
This error message is only visible to WordPress admins